CIPP Corp. & Foraction to Host Water Summit
Event focused on trenchless water main rehabilitation to address aging water systems
(Houston, TX – April 24, 2023) CIPP Corp. (A Vortex Company), one of North America's leading Cured-In-Place Pipe installation networks, and its Canadian licensee, Foraction, announced today they are co-hosting an education and awareness water summit focused on the need for a coordinated effort to tackle the issue of aging water services throughout the Americas. Known as an innovator in the industry, CIPP Corp. developed CIPP H20, an NSF certified water relining technology, as a trenchless alternative to traditional water main replacement. "We've tried to stay ahead of the curve, because we knew the day would come when our drinking water infrastructure needed attention. With the passing of the infrastructure bill, the funding is there to finally tackle the issue," said Mike Vellano, CEO of the Vortex Companies. "CIPP H2O is a proven solution, and Foraction has had great success with it in Montreal, a city that has been extremely proactive in rehabilitating its old water mains and lead services."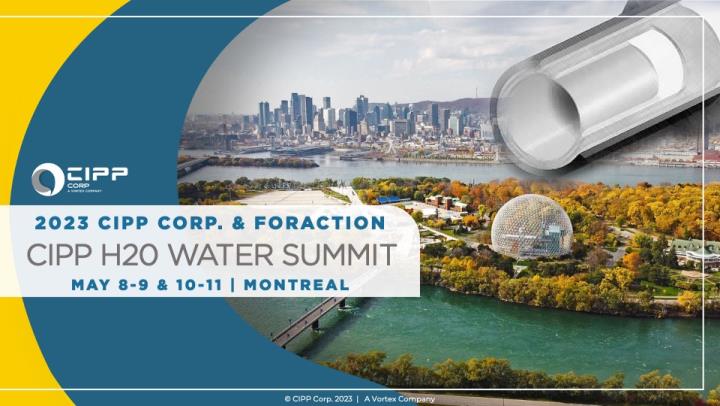 "We're excited to be co-hosting this summit and demonstrating the effectiveness and efficiency of trenchless water main renewal," added Vickie Phaneuf, CEO of Foraction. "Improving water quality and minimizing water loss are a high priority in Canada. Using the right technology with the right approach is critical to its adoption and use abroad."
This water summit will offer two identical sessions in which guests can chose to join. Each session will be held in Montreal, Quebec Canada at the Fairmont, The Queen Elizabeth. Session 1 is May 8-9, and Session 2 runs May 10-11.
"The mission of this summit is to educate water asset owners, contractors, suppliers and engineers, from all over the Americas, on the benefits, safety and cost-effectiveness of utilizing CIPP H20 process to repair aging water lines," stated Connor Collier, VP, CIPP Corp. division. "Using the CIPP H20 process, Foraction has successfully rehabilitated over a million feet of water mains and replaced thousands of lead service lines for the City of Montreal," Collier added.
The two day event offers an intensive overview of the CIPP H2O lining process, the equipment and materials, along with a tour of a wet out facility and active job site. CIPP Corp. and Foraction have committed to also providing CEUs for engineers interested in attending.
"We're losing upwards of 60% of our water through leaking pipes in many parts of the country. It's time to address the issue and this water summit is intended to let our water asset stakeholders know there is a safe and cost-effective solution," added Vellano. If you are interested in attending, click here: https://vortexcompanies.com/watersummit/.
About CIPP Corp.
CIPP Corp. formulates, manufactures, and installs a family of specialty resins and liner tubes for Cured-In-Place Pipe (CIPP) applications. As a proven trenchless method, CIPP continues to improve in performance, quality and versatility in applications. When it comes the choice of materials to match your rehabilitation needs, CIPP Corp.'s liner and resin technology has raised the bar in both performance and selection. For more information, go to www.cippcorp.com.
About Foraction
Founded in 1996, Foraction is a recognized leader in horizontal drilling in Quebec and Ontario for nearly 25 years. As an exclusive CIPP Corp. licensee for Eastern Canada since 2017, combined with the acquisition of Aquarehab in 2019, Foraction has diversified its range of services and quickly become a leader in trenchless water rehabilitation. For more information, go to www.foraction.ca/en/ .