Soil Stabilization Foam Saves Sea Dwellers Thousands
Coastal living environments are constantly subject to soil erosion. This can threaten the structural integrity of seawalls as well as the viability of the dwellings behind it.
An engineering firm, who specializes in geotechnical solutions, was contacted about several oceanfront condominium seawalls that exhibited erosion and multiple depressions due to age and environment.
The Challenge
Several Florida waterfront townhomes and condominiums are protected by a seawall that was nearing the end of its useful life. In place for more than 30 years, the seawall demonstrated evidence that it was succumbing to the long-term effects of soil erosion. Maintenance crews backfilled multiple depressions outside of the seawall cap for years, but the soil erosion continued.
With the cost of constructing a new seawall averaging $45,000 per property, condo owners were seeking a more cost-effective and reliable alternative.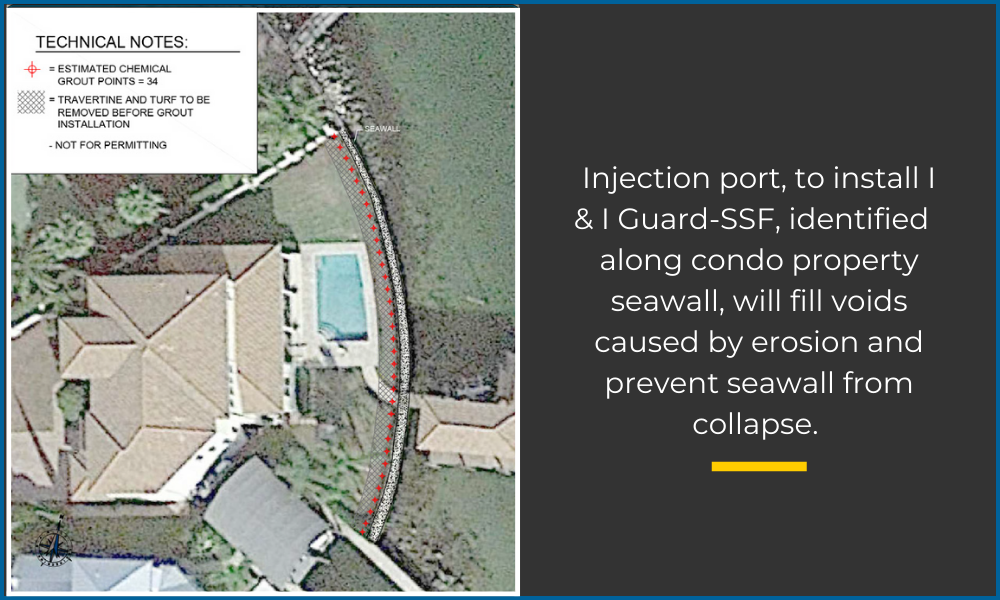 The Solution
Relying on its deep expertise, Vortex Companies advised the contractor to apply its I & I Guard®-SSF two-part chemical grout to prolong the seawall's life and prevent further soil erosion.
The chemical grout was not only used to fill depressions and voids, but also to compact the ground – an important step that creates a protective barrier behind the seawall to prevent soil migration into the ocean.
I & I Guard-SSF's low viscosity and hydro-insensitive nature allows for permeation grouting, undersealing concrete and stabilizing soil while also mitigating inflow and infiltration.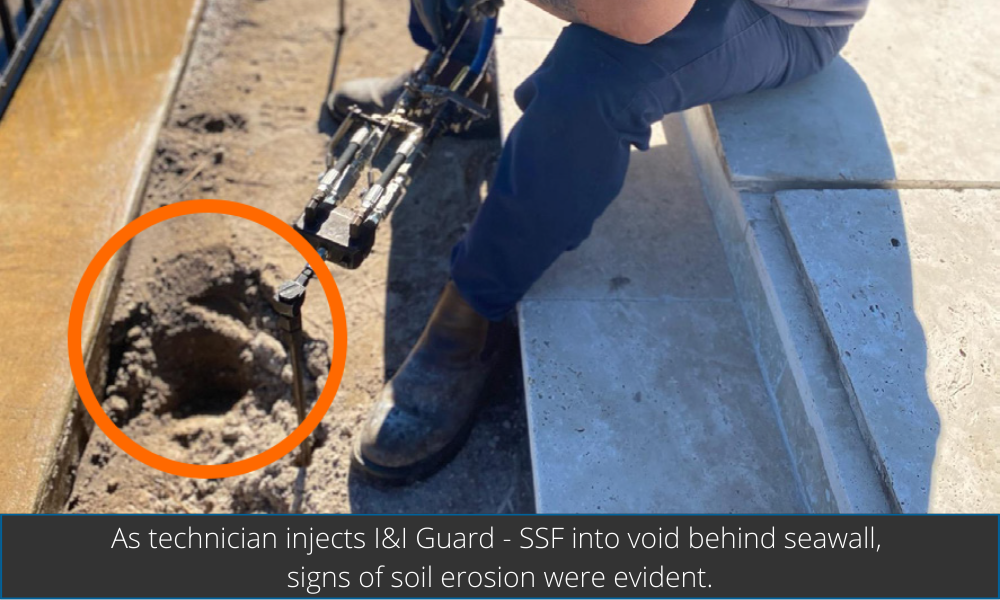 The Results
Applying I & I Guard-SSF stabilizes the condo property seawall and adds 10 years of useful life; and most projects are completed in one day. The chemical grout solution stops soil erosion and is saving condo owners an average of $35,000 to $40,000, as it eliminates the need to construct a new seawall.
Seawall stability is crucial to protecting coastal communities. Extend the design life of your seawall and stop soil erosion with our I&I Guard®-SSF. Read the full case study for more: Download the case study.
If you are ready to see how our extensive portfolio of trenchless solutions can work for your project schedule a meeting with one of our experts by emailing sales@vortexcompanies.com.
Media Contact
|
|
Bethany Hilt
|