Geopolymer Relining & Structural Restoration of Aging Sewer Interceptors in Queens, NY
THE CHALLENGE
New York City was one of the many cities affected by Hurricane Sandy. Many of the water and sewer infrastructure was greatly impacted by the storm. Of the 136 miles of interceptor sewers in New York City, nearly 21,000 LF was identified as needing structural restoration. Due to the location and depth of the sewer lines (in the city, burning 20 feet deep), replacement of the sewer line was out of the question and trenchless rehabilitation was recommended.
After full inspections of the systems, other problems and challenges were discovered:
Severe I&I throughout the system, water was literally pouring in from the sides in many areas
When there are homes and businesses on a busy city street, you also have hundreds of laterals to contend with
Manholes located in odd locations such as the middle of a driveway
Wintery, windy, icy, and lake-effect conditions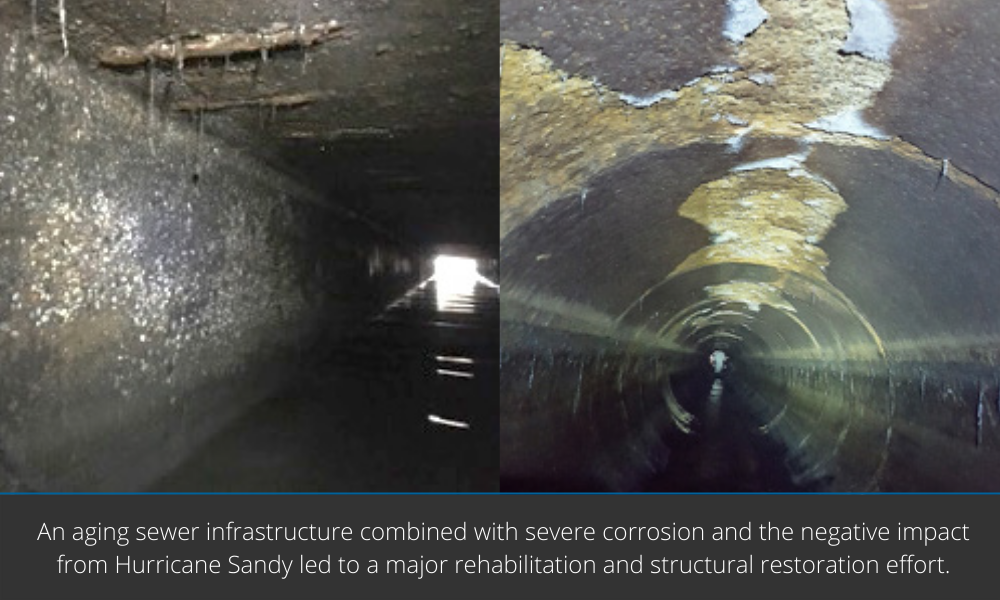 THE SOLUTION
Extensive inspections consisting of visual, sonar sounding, and CCTV were undertaken to assess the system's overall structural integrity. Of the affected 21,000 LF, nearly 11,000 LF were less than 48" in diameter and best suited for a fully structural CIPP solution. Approximately 6,600 LF consisted of RCP pipe, rounded bottom box culvert, and manholes ranging from 54" to 96" in diameter. The variety of sizes and shapes called for using a much more versatile lining technology. After deliberation and research, a spray-applied technology possessing both corrosion-resistant and structural properties was selected.
GeoKrete was selected for its combination of structural and corrosion-resistant properties
Small construction footprint minimizes surface disruption and keeps busy streets open
QLS/GeoKrete application does not require a complete shutdown of the sewer system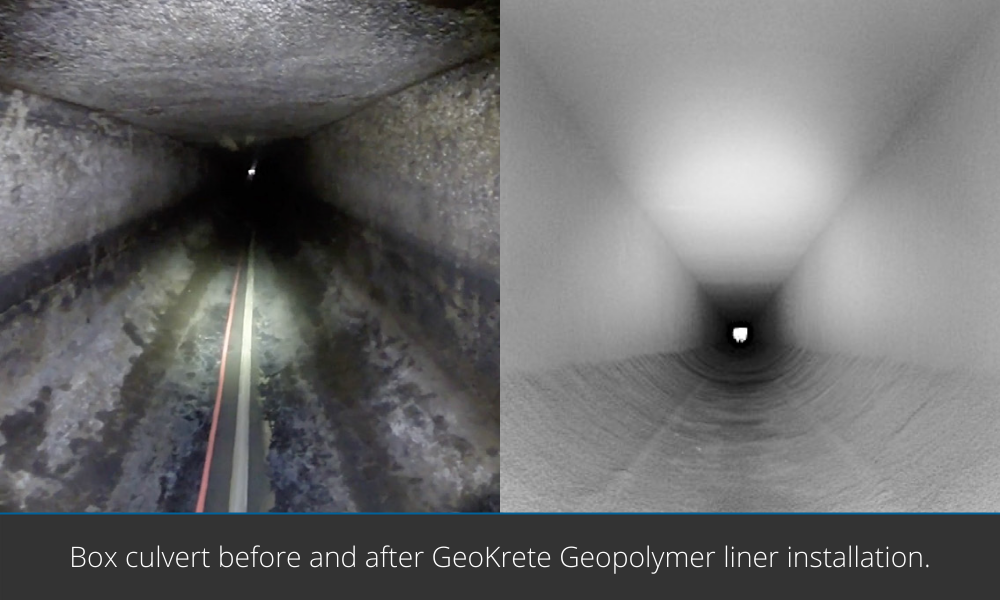 THE RESULTS
In the end, 6,600 LF of pipe, box culvert, and 28 manholes were structurally restored and protected from corrosion using GeoKrete and the QLS method. The total time on project lasted approximately 6 months. If this project was performed with a dig and replace method, it would have taken two to three years and cost millions of dollars more.
You can download the full case study here or visit vortexcompanies.com.
Sales Contacts | Brock Stone 1+ 330.598.3798 | Ryan Graham 1+ 281.639.3237
Media Contact
|
|
Bethany Hilt
|